Orphanages
Costa Rica
[
Click here to view a slide show
]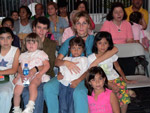 In addition, Dr. Zamber's team visited the SOS Children's Village in Tres Rios and provided vision screening for 87 children and provided funds to purchase glasses, educational and housing supplies.
Ecuador
[
Click here to view a slide show
]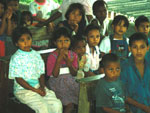 In July of 1998, while completing a medical/surgical mission trip to Salinas, Ecuador we traveled to Monglaralto to visit the children at the Olon orphanage. We were met by the sound of approximately 100 children singing us a greeting song. It was the most beautiful and heart wrenching sound. The Olon orphanage is home to over 100 children who are cared for by a small group of dedicated individuals who are trying to provide the children with the basic necessities of life and a sense of belonging. The children prepared for our visit by cleaning their dormitories and putting their precious few toys on display. We brought bags of toys, school supplies and treats to share with the children and made financial contributions for the caretakers to obtain needed supplies for the children, to include health care.
Later that year, a friend in Salinas visited the children at Olon at Christmas time and used additional funding we provided to purchase a gift and a pair of shoes for each child. The orphanages need for funding is substantial and dependent on private contributions.
Nepal
[
Click here to view a slide show
]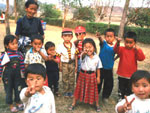 March of 1999, brought us to the SOS Children's Village in Pokhara, Nepal, a 6 hour car drive from the Capital city of Kathmandu. The SOS Children's Villages are established as a unique, home style environment for orphaned children around the world (over 1600 facilities in over 131 countries). The children live in homes with other children, who become their brothers and sisters, and a caring adult brings the children together as a family unit. The SOS Children's Villages work closely with the community to provide educational opportunities from kindergarten to secondary and technical schools and they also provide a day care program for the children of Tibetan refugees.
A financial donation was also made to the SOS Children's Village, but the need for financial assistance still continues as more children are orphaned every day.
Africa
[
Click here to view a slide show
]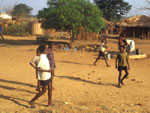 In October of 2000, our mission work took us to the "Warm Heart of Africa" - Malawi. While there we visited the site for the school at the Malawi Children's Village in Mangochi. It is estimated that there are 500,000 children in Malawi who have been orphaned by AIDS. The Malawi Children's Village (MCV) is a community based program providing care for over 3000 AIDS orphans living in 37 villages in the Mangochi area. The children live in village homes with families rather than a single large orphanage. MCV provided educational opportunities for the children and they run a rehabilitation center for intensive care of babies who are sick from AIDS or whose mothers died within weeks of their births. MCV is able to support an orphan for only $14.00 US dollars per year.
MCV was founded by former Peace Corp workers in 1996. Dr. Tom Nighswander, and his wife Ruth, are exceptional people who are committed to being a part of the amazing work at MCV. While still in high school, Dr. Zamber worked under Dr. Nighswander at the Alaska Native Medical Center in Anchorage, Alaska and Dr. Nighswander was his inspiration to pursue a dream of traveling to developing countries and providing high-quality health care. We hope to work with Dr. and Mrs. Nighswander to raise funds so the MCV can continue with their excellent work.
Back to Top